Return to Headlines
Role Models in Black History
ROLE MODELS IN BLACK HISTORY
To encourage our students to increase their knowledge about Black History, this year each class has selected
a Role Model in Black History...This individual is someone whose accomplishments
empower and inspire our students to work hard to reach their dreams....
Mrs Marbury's Role Model In Black History is Oprah Gail Winfrey...An American media proprietor, talk show host, actress, producer, and philanthropist. Mrs Marbury admires Oprah Winfrey because she has positively influenced people of all ages all over the world...Winfrey's commitment to hardwork and assisting others
with reaching their lifes goals is inspirational...
Mrs Lafontant's Role Model in Black History is Michelle LaVaughn Obama... A
n American lawyer and writer who was First Lady of the United States from 2009 to 2017. She is married to the 44th President of the United States, Barack Obama, and was the first African-American First Lady. Mrs Lafontant admires Michelle Obama because she reminds us of the importance of having good character and remaining true to oneself ...
Ms Smith's Class (5-334C) selected Barack Hussein Obama ll as their Role Model in Black History...Barack Obama is the 44t
h
president of the
United States. The first president to break the color barrier as the leader of the free world...
They admire him because he inspires us all, showed us decency and helped all children believe that making mistakes was just a step to achieving goals... The students of class 5-334C believe that he will always be remembered as
a great person and a great president in this country's history...
Ms. Haynes' Class (4-322B) selected Rosa Parks as their Role Model in Black History. Rosa Louise McCauley Parks. Rosa Parks
was an
American civil rights
activist
, whom the
United States Congress
called "the first lady of civil rights" and "the mother of the freedom movement".
Parks refused to obey bus driver
James F. Blake
's order to give up her seat in the colored section to a white passenger, after the white section was filled. Parks was not the first person to resist bus segregation. Ms. Haynes' students admire Rosa Parks for her courage.
Ms. Jackson's Role Model in Black History is Malcolm X. Malcolm X was an African-American Muslim minister and human rights activist. Malcolm X is considered one of the most influential African American in History.
Ms. Jackson admires Malcolm X for his love his people and his courage to stand up his beliefs.
Ms. Watters' class (2-340C) selected Ruby Bridges as their Role Model in Black History.

Ruby Bridges is a civil rights activist born on September 8, 1954.

At the young age of 6, Ruby was the first African American student to attend a segregated school in Louisiana during the New Orleans school desegregation crisis.

Ms. Watters' class admires Ms. Ruby Bridges for her bravery which has paved the way for all of us today.
Ms. Du's class (1-134) selected Mae Jemison as their Role Model in Black History. Mae Jemison, born on October 17, 1956, is an American engineer, physician and NASA astronaut. She became the first African American woman to travel in space when she went into orbit and aboard the Space Shuttle Endeavour on September 12, 1992. Through her accomplishments, she inspires us to work hard and believe that anything is possible.
Ms. Sinclair's Class (4-322A) selected Jessie Owens as their Role Model in Black History. Jessie Owens, born September 12, 1913 was an American track and field athlete and four time Olympic gold medalist. His long jump record stood for 25 years and he is recognized as perhaps the greatest most famous athlete in track and field history. Ms. Sinclair's class are empowered by Mr. Owens' quote, "We all have dreams. In order to make dreams come into reality, it takes an awful lot of determination, dedication, self-discipline and effort."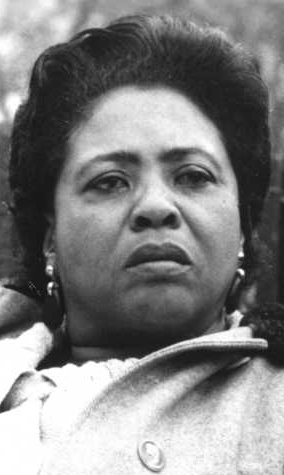 Ms. Spirn's Class chose Fannie Lou Hamer as their role model in Black History. Fannie Lou Hamer, born October 6, 1917 was an American voting rights activist, civil rights leader and philanthropist. She was involved in organizing Mississippi's Freedom Summer for the Student Nonviolent Coordinating Committee (SNCC). Fannie Lou Hamer is an inspiration to the class because she taught people to stand up for what they truly believe in.
Ms. Melendy's class (2-340A) selected Mark Dean as their role model in Black History.

Mark Dean, was born on March 2, 1957 in Jefferson City, Tennessee.

He was a smart and hard working boy who showed interest in technology from an early age.

Today, he is an American inventor and

computer engineer.

He was part of the team that developed the ISA bus, and he led a design team for making a one-gigahertz computer processor chip.

Ms. Melendy's class is inspired by his words, which reminds us that we too can dream big and reach our goals.